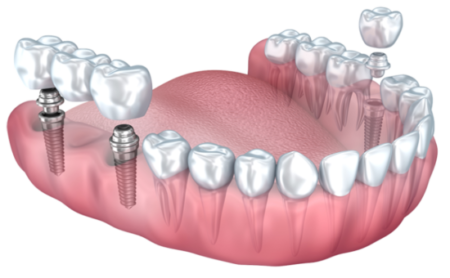 Unlike traditional dentures, dental implants have a quality, natural appearance and don't slip, slide or require nightly cleaning sessions in a glass beside a nightstand. The only care they require is the same brushing and flossing patients give their natural teeth to keep the surface and the gums clean. Dental implants can also be more comfortable than traditional dentures and offer more security and confidence because patients know they are going to stay firmly in place.
Dental Implant Procedure
Dental implants result in the permanent installation of an artificial tooth and root to replace one that is missing or needs to be replaced. The dental implant itself is actually titanium screws, which are surgically implanted and eventually fuse with the patient's jaw bone. Once permanently fused, a process takes anywhere from three to six months, the implant is capped off with a customized artificial tooth made to mimic the appearance of the patient's natural teeth.
Before implants are even considered, Dr. Poznyansky performs a full oral evaluation, ensuring the jaw bone has sufficient mass and strength to support implants. The exam is followed by a consultation during which the range of possible restorative procedures is discussed. Because of his expertise in bone grafting, Dr. Poznyansky has the ability to help restore the jaw bone when necessary, offering dental implants as an option to even more patients that might not normally be able to support them.
LEADERS IN COSMETIC AND RESTORATIVE DENTAL CARE
A PERFECT SMILE EVERY TIME